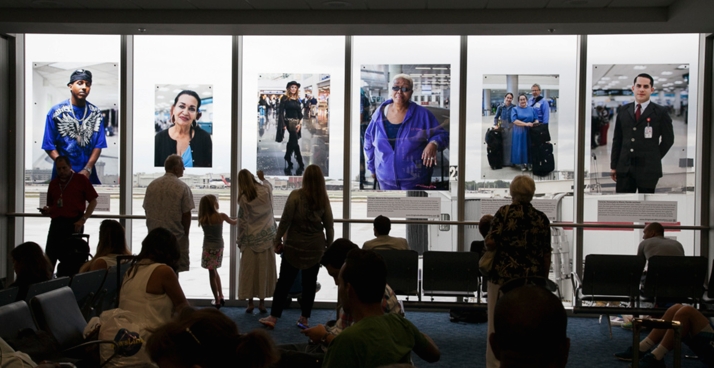 When I was 10 years old, I had the unusual experience of walking down Market Street in San Francisco with my art teacher and my best friend. As we looked out at the big city, with its vast array of businessmen and homeless people, my art teacher leaned over us and said: "I want you to look at each person we pass and find the beauty in their uniqueness. In each wrinkle stemming from that man's eyes, or the freckled skin of that boy's face, or the curve of the old lady's back. I want you to look carefully, and find their beauty." It was a difficult assignment and it took some time, but eventually we learned to find that beauty. That day shifted the way I see the world.
Years later, as I sat waiting for my flight at the Miami International Airport, I fell in love with the individuals surrounding me. As I became curious about the people who were sharing the complex crossroads of North, East, South, and West, this project was conceived. I photographed and interviewed over 200 people for this body of work. Going behind security, hanging out with Cuban families at the Customs exit and approaching complete strangers were all part of the process. The generosity of the participants was exquisite; no two interactions were alike. The resulting exhibition aims to shift the context in which nameless and unfamiliar faces are often seen, making the invisible – visible.
Thinking of each person as an individual thread, with an origin and destination, this exhibition explores the beauty of the ever-changing tapestry of humanity present at any given moment.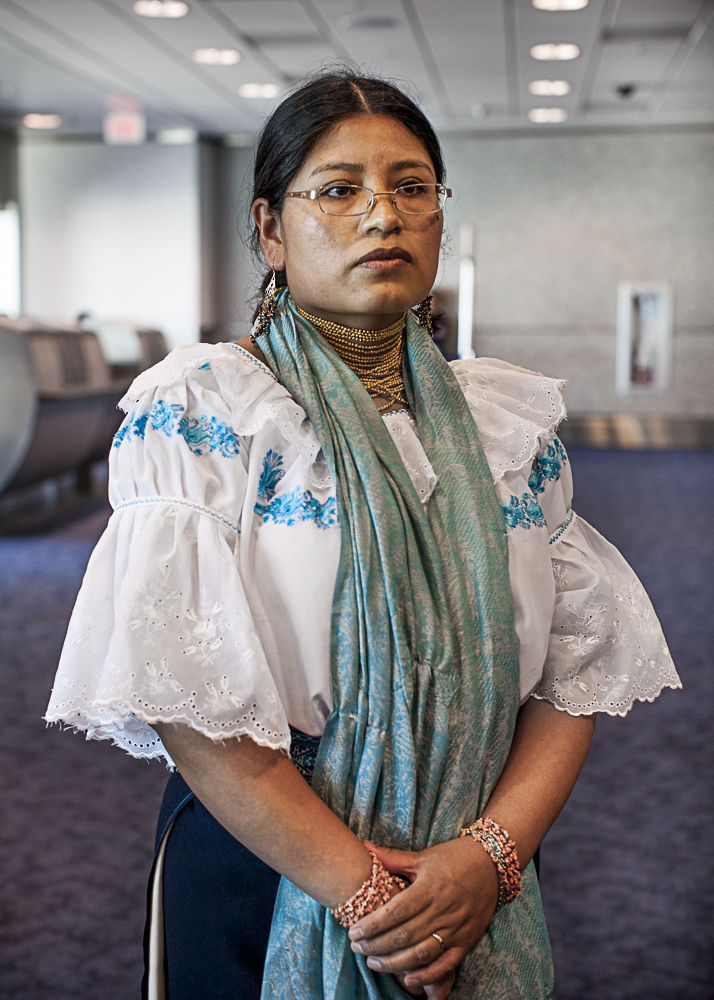 Washington, DC to Quito, Ecuador
Maria Olga is from a small town in Ecuador and is a live-in domestic worker for a retired couple in Washington, D.C. She travels back to see her family for one month every year and always wears traditional clothing for her homecoming. She has been doing this for nine years. Her children are 12 and 15 years old. This trip she is surprising her husband with a brand new piano and bringing MP3 players for her kids. When apart, the family visits on Skype daily. As a child, Maria Olga wanted to be a doctor when she grew up. Her favorite color is orange.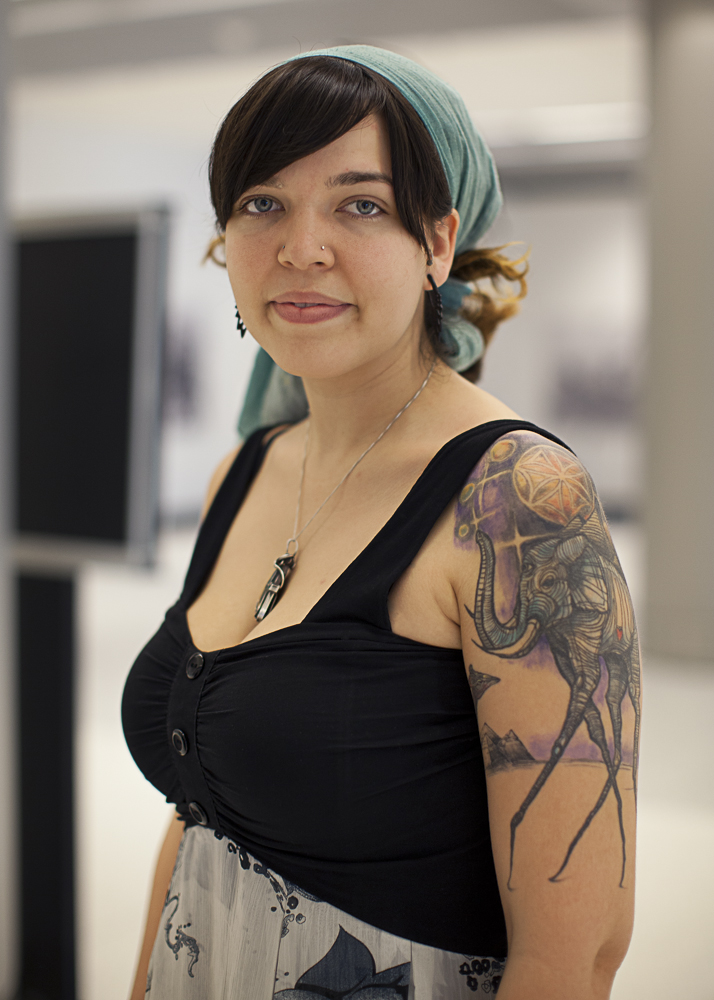 Toronto, Canada to Quito, Ecuador
Nico is 23 years old. She left her naturopathy studies to join the Occupy movement for a year. She is traveling to join her sisters and her two-year-old nephew at her mother's new home in Ecuador. She considers her home "anywhere my family or my heart is." Her favorite food is anything that is vegan or raw. As a child, Nico liked to build forts and run around outside with friends. She wanted to be an astronaut when she grew up.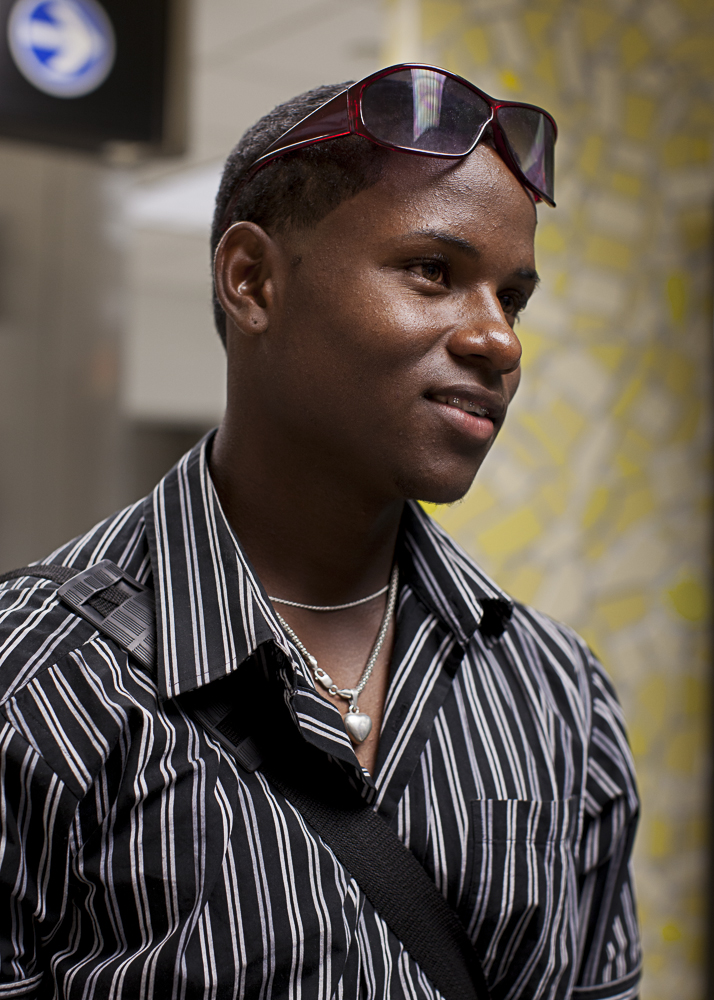 Santo Domingo, Dominican Republic to Miami, Florida
Daniel is 19 years old. He started playing baseball when he was eight after seeing his sister play the game. Two years ago, a scout spotted him in Santo Domingo and recruited him into the minor leagues to play with the St. Louis Cardinals. This is his first trip to Miami and he has come with a purpose: to train hard so he can help his family by one day becoming a major league player. His favorite color is red.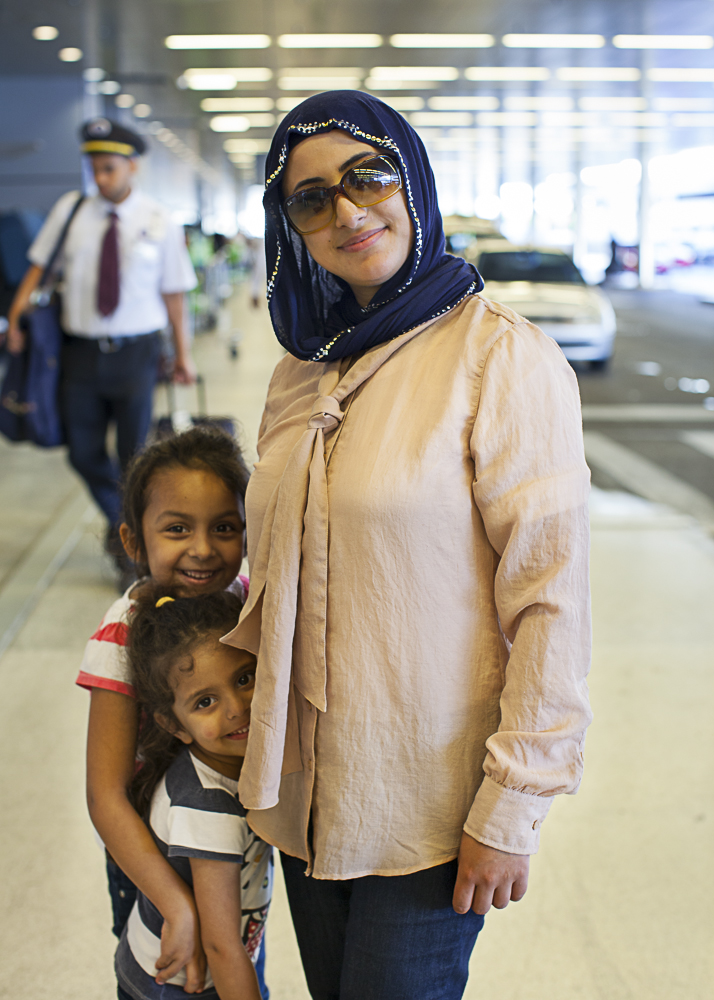 New York, New York to Kuwait City, Kuwait
Fatma, her husband Yousef, and their kids are wrapping up a one-month vacation in America. They visited New York, San Francisco, San Diego and Disney World. This is their second trip to the states; last year they also saw Las Vegas. Back home in Kuwait, Fatma is a homemaker and Yousef is a police officer. As a child, Fatma liked to play video games and jump on the trampoline. Her favorite colors are white and pink.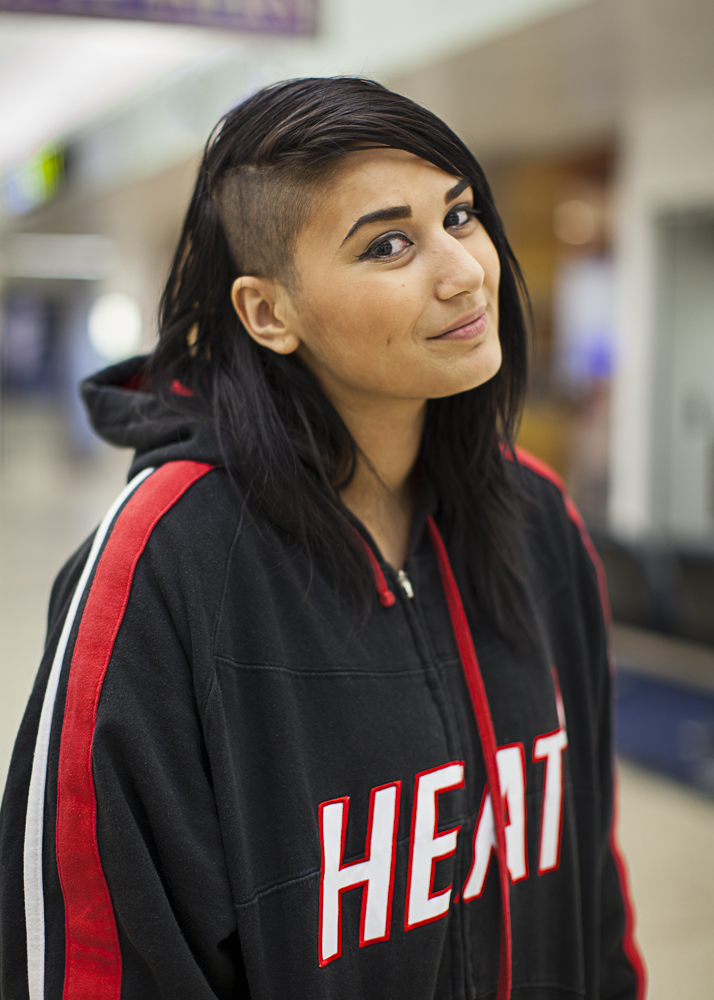 Miami, Florida to Seattle, Washington
Marla met her boyfriend Jay playing the video game Call of Duty a year and a half ago. They now live together in Miami. Today they missed their flight to Seattle, where Jay's family lives. Before she met Jay, Marla had never been on an airplane; she found it nerve-racking but cool. They both like the color blue.
Miami, Florida to Merida, Mexico
Days after receiving his law degree, Armando left Cuba because of Fidel Castro and the Cuban Revolution. He never had a chance to practice law. In the United States, he joined the Air Force and was sent in with the Bay of Pigs invasion as a member of the assault brigade. Armando was one of the very few to make it out alive. He and his wife Elsy chose to retire in Merida, Mexico, because it reminded them of their Cuban hometown of Santa Clara. His favorite colors are red and blue.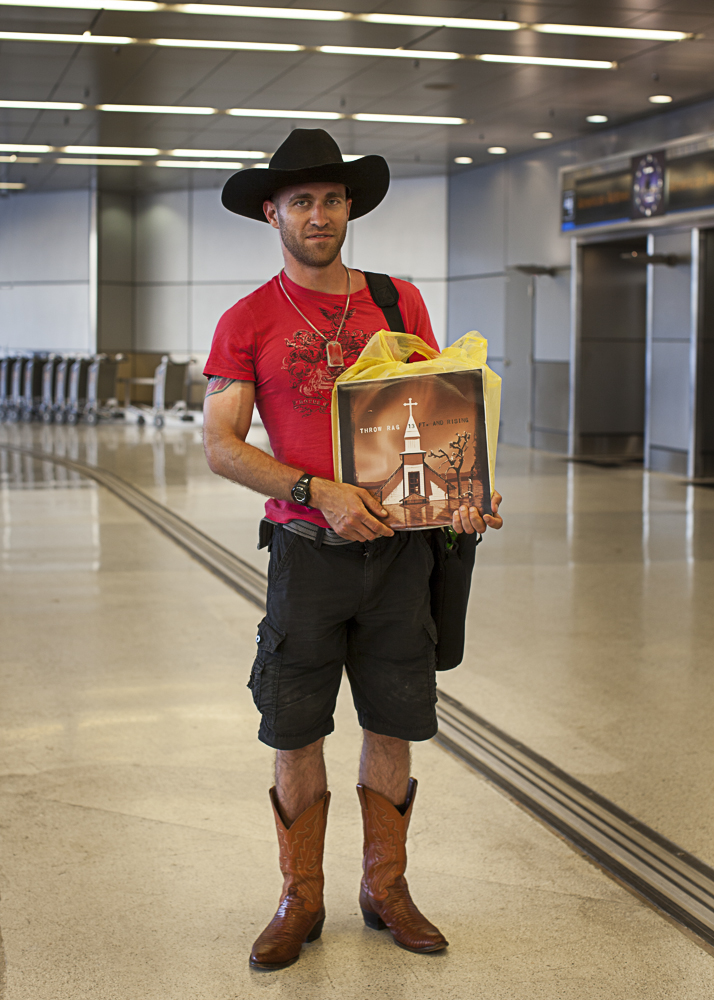 Miami, Florida to Norfolk, Virginia
Dustin is a journalist for the U.S. Navy, joining the military after 9/11. His deployments since include "a 6-monther to the Horn of Africa, where I was working Public Affairs in Djibouti, Uganda, Tanzania and Ethiopia." Recently he returned from Afghanistan, where he did live radio and television broadcasting. He is now preparing to do Combat Documentation, training in S.E.R.E: Survival, Evasion, Resistance and Escape. When he travels, he likes to dress slightly flashy. "If that bothers people, it amuses me." He was in Miami to see WrestleMania. His favorite food is sushi.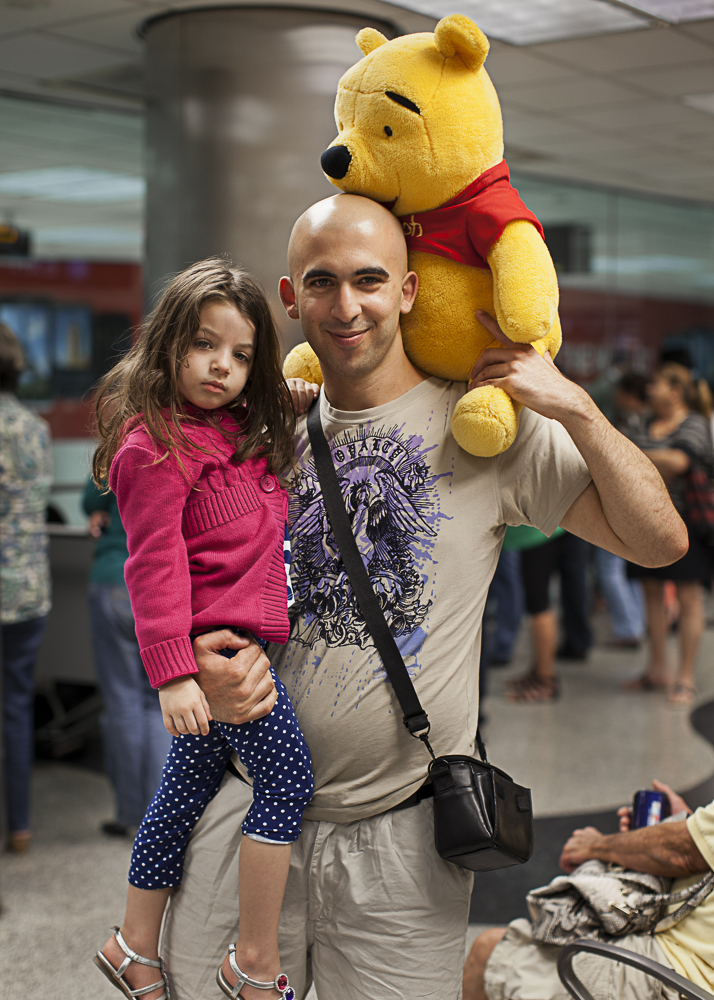 Havana, Cuba to Miami, Florida
Miguel always wanted to go to the U.S. to build a business that helps people; he feels he is now living his dream. When he started selling Amway three months ago, he became part of a team that shows support for each other. Today, they are gathered to welcome one of the teammate's families from Cuba. The Winnie the Pooh bear is a gift for his colleague's daughter when she gets off the plane. After leaving the airport, the group will have a Cuban-style house party and make caldosa. Miguel studies theology, methodology, psychology and math, "everything that is about life." His favorite color is white.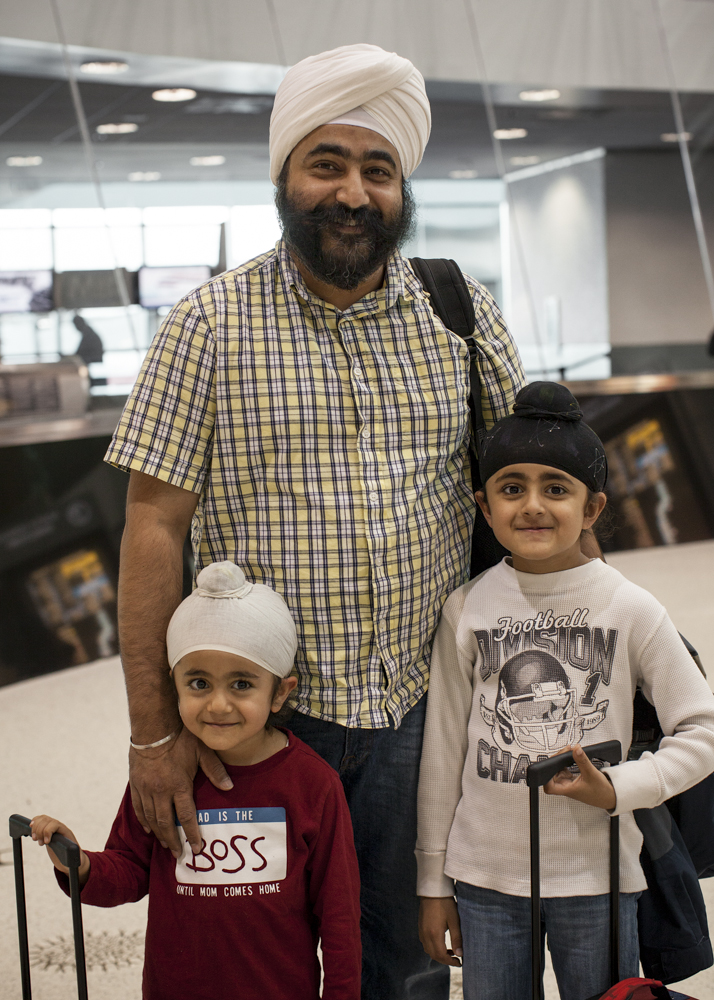 Miami, Florida to Richmond, Virginia
Rajneesh grew up in the foothills of the Himalayas. He now works in software and continues to run the antique gun business his grandfather started in India decades ago. He is traveling with his wife and children from their home in Virginia to Miami for a family wedding. While in Miami he plans to see the sites and take his kids to the Museum of Science. As a child, Rajneesh dreamed of being many things: a pilot, an astronaut, a plumber, then a car mechanic. His favorite color is green.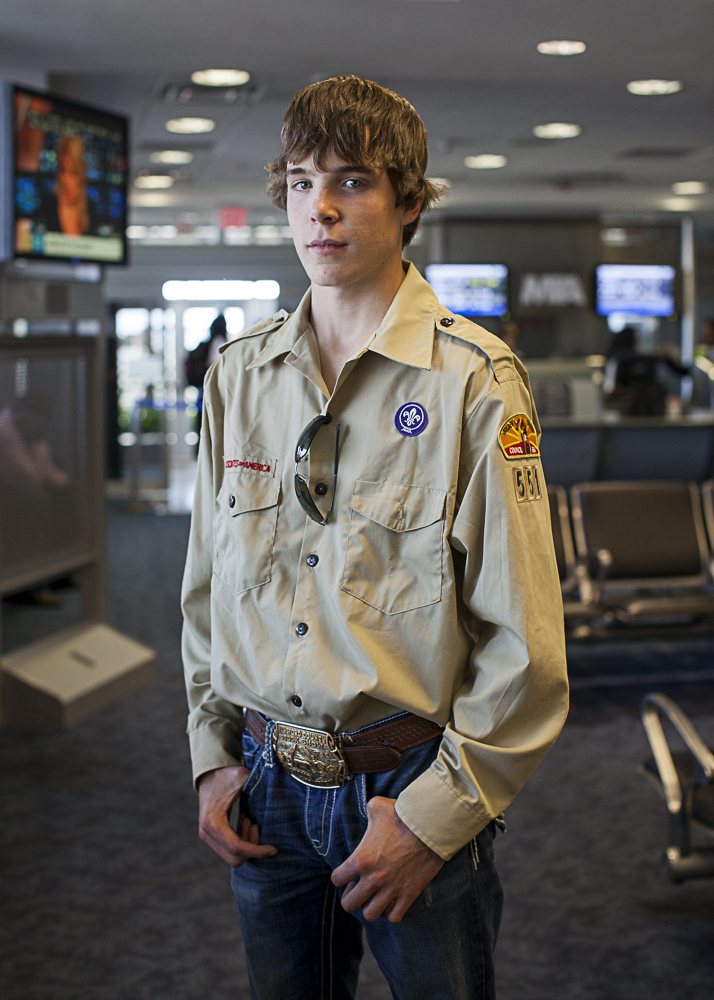 Spearman, Texas to Key West, Florida
Richard is 16. He is in high school and helps his father with farming and ranching. In the Spring, they brand the calves; in the summer they plow, plant, and cut wheat. He lives in Texas and is traveling to Key West for a seven-day Boy Scouts' trip. They'll go snorkeling and deep-sea fishing. Richard's belt buckle is a trophy; his pig won Grand Champion at the Hansford County Stock Show. His favorite meal is steak and potatoes. When he grows up, he wants to be a veterinarian.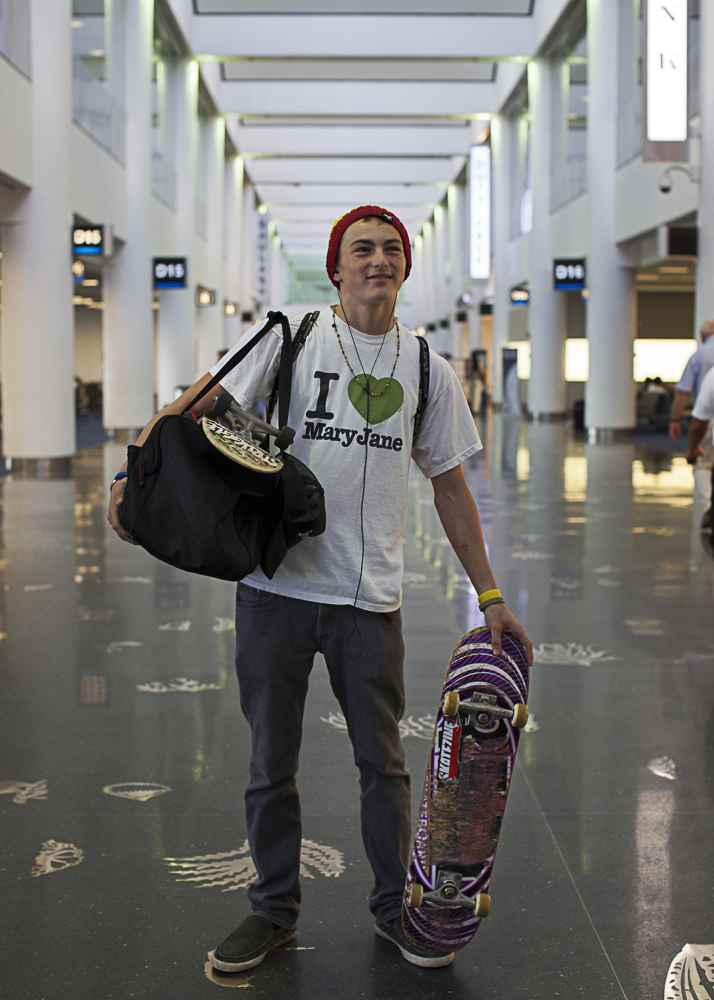 Nashville, Tennessee to Orlando, Florida
Matt is a senior in high school and skateboarding is his passion. While his younger sister Emily competes in a world-class archery tournament in Orlando, Matt will be visiting the skate parks, showing off his skills. He is hoping to catch the eye of a talent scout so he can attract a sponsor. He likes the color green and his favorite food is lobster.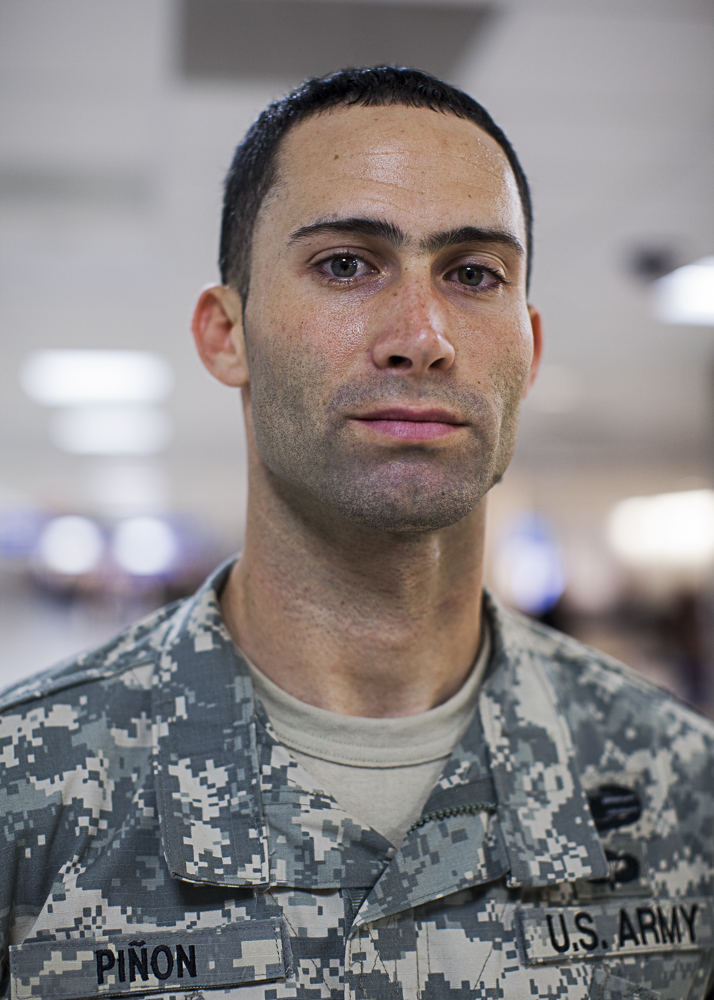 Fort Hood, Texas to Miami, Florida
Adrian has just arrived in Miami to spend Thanksgiving with his large, extended Cuban family. He is excited about reuniting with his brother, parents, and grandmother after many years away in the military. Growing up, Adrian always knew he wanted to be a soldier. His favorite color is green.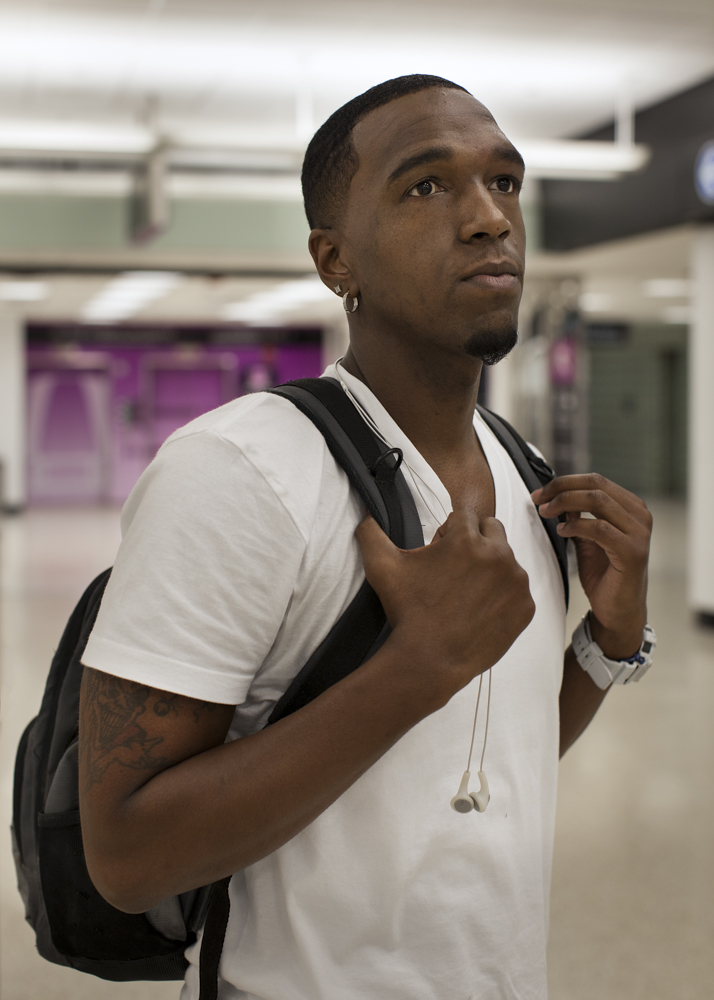 The Dominican Republic to Baton Rouge, Louisiana
Michael is 28. He works in Afghanistan for the large corporation Honeywell, as a Senior Logistics manager helping the military with their supply needs. Previously he worked in Iraq. He gets to come home every six months for two to three weeks and spends as much time with his family as he can. Today he and his nephew are returning from the Dominican Republic where they stayed at a villa with a private cook and went clubbing every night. Michael's favorite color is blue. If he could go anywhere in the world, he would visit Brazil to "see the attractions."
Miami, Florida to Cairo, Egypt
Luz, a Florida housewife born in Colombia, has three children and is an advocate for Hispanic Muslim women. Today she and her Egyptian husband Khaled, who designs leather handbags, are dropping off his mother who is returning to Egypt. Luz has been on radio and television advocating for Muslim family values. "The perception that the hijab, or head scarf, degrades women is false," she says. "On the contrary, it allows women respect and frees them from being seen as only sex objects." Luz was drawn to Islam because "everything has logic. Everything has a 'why.'" As a child, she liked to read. Her favorite color is green.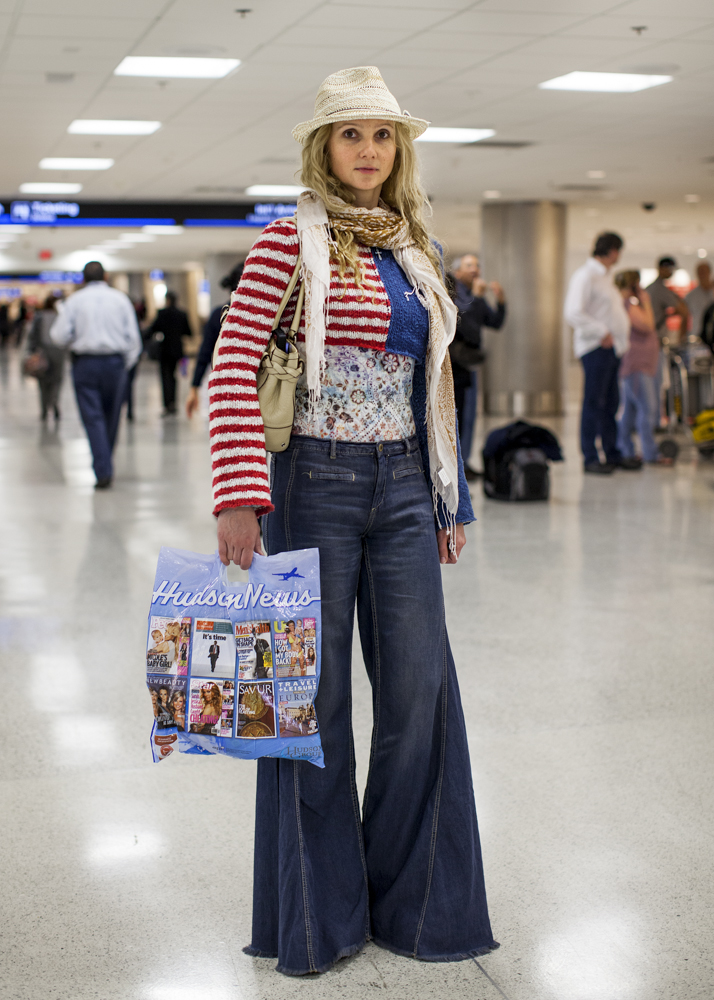 Las Vegas, Nevada to Miami, Florida
Olga is an aerial acrobat and flying trapeze artist. She was born in St. Petersburg, Russia, and now lives in Las Vegas, Nevada. Her career takes her around the world; she has lived in such places as Paris and London. Today she flew into Miami for a four-day business trip with her husband, who had been traveling in Germany. As a child, Olga liked to play chess and wanted to be a veterinarian when she grew up.
Miami, Florida to Flores, Guatemala
Juan has worked many different jobs during his three years in Miami. Today he is returning home to work with his family in northern Guatemala. He came to America by himself and says about Miami, "The dollars are beautiful, but nothing is here. I am not leaving anything." He grew up around agriculture and always thought he would do that type of work one day. His favorite color is white.
---

To see the entire Origins and Destinations show and current projects created to promote cultural awareness, please visit the link to the artist's website here.
---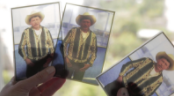 For more about the development of Origins and Destinations and to be a part of the next installation, please see the Indiegogo video here.