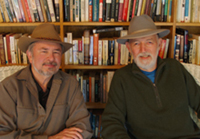 Last year my friend Charles Entrekin, publisher of Sisyphus, recommended an audiobook: At the Existentialist Cafe՛: Freedom, Being, and Apricot Cocktails with Jean-Paul Sartre, Simone de Beauvoir, Albert Camus, Martin Heidegger, Maurice Merleau-Ponty and Others, by Sarah Bakewell (Chatto, 2016); ably read by Antonia Beamish.
Charles and I were grad students in a Philosophy program at the University of Alabama in 1966. Our friendship grew around seminar tables, cafe tables, and late nights with our families. We loved discussing philosophy, often with our young professor Bob Rikkers. As we read Kant, Wittgenstein, Russell, Brentano, Husserl, Sartre and the rest, we'd try to hammer out underlying assumptions and the worth of their claims.
After listening to Bakewell's book, I wrote Charles the following letter.
Dear Charles,
This was a really interesting experience—listening to the book and re-thinking these figures, all the while reliving our days in Tuscaloosa.
Bakewell likes writing about people she admires, and her upbeat approach initially gave me hope that she would reveal a more positive interpretation of the individual doctrines and their movement than I had. Her optimism and joy did bring out at least a new feeling about their works.
She was taken by the moment when Sartre and de Beauvoir, not long out of college and intellectually restless, were told by their friend Raymond Aron about phenomenology. He said that one could make philosophy out of any descriptive writing—that's the power of phenomenology. Bakewell recognized that the existentialists blurred the line between philosophy and literature, but she didn't seem to think this was a great problem. For me, though, there's a question of how one gets from literary writing to claims about ontology.
I remember our discussions of Husserl's epoche՛–his bracketing of assumptions in order to get back "to the things themselves." As I recall, we decided that he was confused. He wanted to get, not to things, but to essences that were complex, private, and directly apprehended. Without Husserlian training, who could perceive them? Getting from such an ideal object to the intersubjective public world would be a problem.
He didn't come up with a new foundation for scientific knowledge, one of his goals. In trying to provide a ground which would make scientific knowledge certain, he foundered on an impossible reef. Dewey and Popper had it right, Plato and Descartes had it wrong.
While I felt we had caught him in a contradiction, Bakewell suggests a more positive take on his project.
As to his call for bracketing away assumptions and paying attention to "the things themselves," she suggests similarity with a writer saying, "show don't tell." I was struck by the contrast between Husserl's obscure presentation of his methodology and Bakewell's invocation of relatively clear guidelines.
"Show don't tell" means, when spoken by writing teachers, not just "use the five senses," but, more deeply, "describe in sensory terms so that the reader can experience being there and can contribute to the meaning of the scene." "Show don't tell" doesn't mean "eschew narration."
While the writer's shorthand, "show don't tell," insists on close observation and fresh description, it assumes there will also be story. But Husserl insisted on bracketing conventional narratives about objects, and capturing their essences in description. This process is called an eidetic reduction and is supposed to yield an essence which is not asserted to have contingent, empirical existence.
While I like Bakewell's redeeming the molasses of phenomenological methodology by comparison with the injunction to writers that they should observe intently and freshly describe, this seems—to me—a very personal reading.
Bakewell has studied philosophy in depth, but I don't think she cares about traditional problems of epistemology or metaphysics. She digs fresh descriptions. As do I.
Andrew Hussey, in The Guardian, writes:
"Bakewell is a skillful and nuanced teacher. Her explanation of the mysteries of phenomenology, clear and succinct, is as brilliant as any I've heard in a French university classroom. For the uninitiated, phenomenology is a philosophy of German origin that focuses on the world as it appears ('phenomena,' in Greek, means 'things as they appear') rather than questioning the interpretations of reality. In the hands of the French existentialists, this means, as Bakewell puts it, a philosophy that goes 'straight to life'."
I don't agree that Bakewell explains the mysteries of phenomenology, but I think she does something better. She anoints writers with the power to explore any subject, revealing it as never before.
In attempting to describe the world in such depth that "being itself" will be revealed, the male philosophers in the "existentialist cafe՛" story tended to get carried away. Bakewell's enthusiasm for (her take on) the method is best exemplified by her discussion of Simone de Beauvoir.
My favorite chapter in Bakewell's book tells the story of de Beauvoir writing The Second Sex. She told Sartre she wanted to write about what it was like growing up as a girl. Here Bakewell finds a great example of a writer bracketing assumptions, and looking with fresh eyes at her subject.
Bakewell says:
"Beauvoir soon developed the project into something revolutionary in every sense: her book overturned accepted ideas about the nature of human existence, and encouraged its readers to overturn their own existences. It was also a confident experiment in what we might call 'applied existentialism'. Beauvoir used philosophy to tackle two huge subjects: the history of humanity — which she reinterpreted as a history of patriarchy — and the history of an individual woman's whole life as it plays itself out from birth to old age. The two stories are interdependent, but occupy two separate parts of the book."
Bakewell continues:
"She wrote quickly. Chapters and early versions appeared in Les Temps modernes through 1948; the full tome came out in 1949. It was greeted with shock. This freethinking lady existentialist was already considered a disturbing figure, with her open relationship, her childlessness, and her godlessness. Now here was a book filled with descriptions of women's sexual experience, including a chapter on lesbianism. Even her friends recoiled. One of the most conservative responses came from Albert Camus, who, as she wrote in her memoirs, 'in a few morose sentences, accused me of making the French male look ridiculous'. But if men found it uncomfortable, women who read it often found themselves thinking about their lives in a new way. After it was translated into English in 1953 — three years before Being and Nothingness and nine years before Heidegger's Being and Time — The Second Sex had an even greater impact in Britain and America than in France. It can be considered the single most influential work ever to come out of the existentialist movement."
De Beauvoir wrote a novel called The Mandarins, which was very successful, and which reflected her circle of friends, their political anxieties, and her divided loyalties between two lovers— Sartre and Nelson Algren. I found a copy—600 pages, original mildew—and read as much as I could, skipping along, checking out the sex scenes. Between them stretched miles of political discussions.
It was written rapidly, with great narrative drive, and I liked her language despite my sense that it was awkwardly translated. She really was from a different time and different culture.
Bakewell recognizes that phenomenological description was often a matter of finding new metaphors. The philosopher who went crazy with this was Martin Heidegger.
I thought the most revealing passage in Bakewell's book was a quote from Gertrude Stein which used outrageously funny metaphors for aspects of people.
Bakewell says that, via Janet Malcolm's study Two Lives, she came across excerpts from Stein's novel The Making of Americans. The narrator, speaking of her characters, says "the 'being' in them can be a 'slimy, gelatinous, gluey, white opaque-y kind of thing and it can be white and vibrant and clear and heated…'."
When I read this the first time, I thought Bakewell had said that Heidegger had read the passage and that it influenced him. I thought, oh my god yes! Rereading it later, I saw that she'd said, "he might have appreciated the sight of a writer stretching language to its utmost to avoid the dulling effect of ordinary perceptions. He might also have recognized that her distinction between characters and the 'being' in them foreshadows his own notion of the ontological difference."
Bakewell continues, "Thus, it can help to think of Heidegger as an experimental novelist, or a poet."
Heidegger, I always felt, was a charlatan. British philosopher John Gray reviewed Bakewell's book, and said that Husserl told the young Heidegger to read Kierkegaard, and Heidegger's categories are nothing more than K's categories transposed into Husserlian language. I had never heard this, but it seemed plausible in light of one or two examples. He makes a number of good points at Literary Review.
I hated listening to all the chapters on Heidegger and his depressing bad character and the Nazi events. But I stuck it out because Bakewell had done interesting research, and she came up with surprising stories throughout. In the end I didn't change my views of these thinkers.
Sartre was the most interesting figure to me. I remember discussing Being and Nothingness with Bob Rikkers in 1967 and his saying Sartre describes how human beings often feel about themselves, but not how they feel about themselves all the time.
I thought that perfectly summed up the problem of ontological claims in Sartre's great book. But I still thought it was a great book.
Sartre was praised for his novels and plays, as well as for Being and Nothingness. All of these works tell stories of people of unequal power playing roles with each other. The challenge is to be authentic, which is to say, to avoid bad faith. A person is called a "for-itself," and any object of that person's awareness is called an "in-itself." Subjectivity, as a "for-itself," is fluid, diaphanous, anxious, reaching out, and experiencing itself as incomplete. On the other hand, an "in-itself" is any object of perception—other, complete, finished. As Rikkers said, Sartre is correct that we often feel ourselves alienated from all things, including our own bodies. But these feelings aren't always the same, or always negative.
I had barely been aware of Emmanuel Levinas, but I looked him up and read some of his work online. I admire him very much. As a Jew in concentration camps he used phenomenology (in something like Bakewell's sense) to describe human relationships as fundamental to a single person's identity. Somewhat like Buber.
One philosopher I felt made a huge contribution to current thinking was Merleau-Ponty. His ideas of embodiment are very much with us. I wished I had not heard about his philandering.
I always thought Sartre's ideas about freedom were incoherent, and I still do.
This was a case of a book title – At the Existentialist Café: – Apricot Cocktails etc. – giving the book a different spin than it would've had with a more accurate title. Except for the first few chapters, it wasn't light and fun. Nazi chapters were dreary, and Husserl ones tedious.
Yet I never thought of stopping my listening. I was transfixed, reliving study of these people, and reliving our days together.
I'm grateful to Sarah Bakewell for rescuing, for me, a sense of possibility in phenomenological description.
I found the chapters about Paris after the war sad, with all the squabbles between the friends who were drunk much of the time. All that agonizing over whether to support communism, overlooking Russian atrocities for the "good of the proletariat," seemed silly. And yet I realize that was a different time, they were European, and they were French. (Actually, I remember hearing similar arguments between leftists in New York in the '70s. I thought those were silly too.)
In taking the step from emotionally moving stories to claims of phenomenological ontology–the experiential structure of the world–philosophers go too far. Yet with a little modesty, perhaps, they could convey a profound point. That is, the world is deeply mysterious, and certain stories and poems give us a feeling of contact with patterns of reality. Sartre's account of a waiter playing the role of a waiter, for example, illustrates what role-playing is like for anyone serving customers and bosses.
There is ontological weight to good writing. It can be felt through metaphors and other aspects of literature, as it can be felt through painting. But we mustn't get greedy and claim tight literal links between our deliberately obscure sentences about Being and real things, then claim certainty, then set ourselves up as the only philosophers in town with the truth.
Sarah Bakewell is right to ignore such pretensions and to celebrate her metaphorical readings of phenomenology and existentialism. Observing her subjects closely, describing them well, and narrating these complex lives and times so thoughtfully, she has created–like de Beauvoir in The Second Sex–a beautiful product of her method.
Philosophy is a unique subject in that one cannot study it without doing it. Bakewell doesn't just take ontological heavyweights and redefine their efforts in a lighter vein. In going with Heidegger into the forest, with Simone Weil and Levinas into the concentration camps, and with the Paris crowd into their cafe nights, she gives enough care to their philosophical claims. In celebrating their literary works, she reveals her philosophical commitments. Rather than mocking their efforts, as is often done by analytic philosophers, she generously implies that writers should be remembered for the best work they leave behind.
Thank you so much for the recommendation.
–Luke
Some worthwhile reviews of At the Existentialist Café: Freedom, Being and Apricot Cocktails:
Janet Maslin at the New York Times
John Gray at the Literary Review