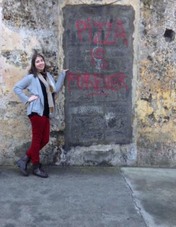 An earlier version of this essay appeared in the Spring 2012 issue of The Louisville Review, under the title "Your Pictures Are Beautiful, But Where Are All the People?"
In my early twenties, time seemed to move at lightning speed. From age twenty-one to twenty-four, I worked, traveled, dated, paid rent, failed to pay rent, shopped. All this time, I felt like soon it would all be over—I'd be old and all I'd remember about my life was this rushing feeling and the blurry image of a photo taken from a moving vehicle. This might have been an appropriate time to take up meditation, but I focused on the external. I decided to get out of Brooklyn, to move someplace where time moved slower, where history was remembered and traditions were honored without irony (someplace far from New York City).
Let me preface this by saying I could not speak Spanish, at all, when I made this move. If I had been able to, I might have thought twice about this region, named for its harshness: Extremadura. All I knew when I signed my name to a year's ESL teaching contract were Google Images of crisp vineyards and hills of shrubby green trees. This, and a large dusty book I'd checked out from the library back when I lived in coastal North Carolina, whose stories stayed with me: James Michener's Iberia, travel tales from Spain.
The stillness of Michener's photographs, black and white, a dust-blown Castilian village, evoked John Wayne on a horse, an anecdote of Michener's visit to the home of Vasco Nuñez –better known to the rest of us as Balboa—claimer, "founder" of the Pacific Ocean. That jeweled, beheaded conquistador, and this was his hometown: Jerez de Los Caballeros. Yes, I said to myself, let's go there. I'd love to teach there.
*
The donkeys are hungry. This makes them mean, mostly, but there's one I visit and the joy, the relief in his face after my hand touches his flank makes me ashamed. I turn my head.
Michener wrote about the silence of this place, the stares of local eyes from the small clean windows, as he walked up and down in search of Balboa. Now I see it, hear it. I live in a small piso above a widow— needlepoint, embroidery everywhere, and tall dark salon rooms with plastic blinds fastened tight against the sun. And on top of the blinds, drapes: hand-made, thick, skimming the floor, but dirt-less, dust-less. Louisa's house smells like Lysol and cigarettes.
When I return from work at three I find her in the stairwell, scrubbing my footprints off her landing. She orders me inside to try on her discarded blouses before she gives them to Las Hermanas at the convent, and suddenly I'm topless in her formal bedroom twitching left, then right, to avoid her hemming needles. She pulls the blouse tight and cinches it at the side.
"Guapissima," she says, grinning.
As I walk to work at seven in the morning to teach my eight o'clock class, the streets are dark. The Spanish sun rises late, sets late. I see men in mauve or brown wool sweaters, brown pants, yellow teeth; they lean out on canes from doorways, call out, "Niña! Venga! A donde vas guapa?" I'm not too much younger than their youngest sons maybe. Do I have un novio? They're ready for grandchildren; this economy isn't doing them any favors.
They can't sleep I guess.
After school, I return to the heart of things, through the crooked passage from the medieval stone archway marking the entrance to this walled city. The school was only built in the '70s, so it sits outside the village walls, down a sharp hill and up again. I'm sweating by first period each day, breathing heavily as I explain to my students about American universities, about all the cars.
*
For the past thirty minutes we've been doing a grammar lesson from the English textbook—British grammar—and I've been struggling. In the middle of the room, a hand goes up.
"Marie-José?"
"What your favorite Michael Jackson song?"
I won't answer this, I think, but after a breath they get to me—their brown eyes, brown hair, and golden brown skin—they melt into me. These children haven't been alive long but their lineage is solid, traceable, altogether un-American. Moments of communal understanding are few, and I see this could be one.
"P.Y.T.," I say, but my pronunciation leaves them unsure. They squint. "I want to love you," I sing.
Later we do an activity where each of the kids has to describe in English the clothes of someone else in the class. Things move slowly, church-like, until someone says, "Black sues, black sirt, jeans an botas—no, boots," and then the girls start to giggle and the boys chant, "Tea-cher, tea-cher."
*
On my return walk I move, unsteady, between dazzling sun and cool rock limestone castle, work not to trip on cobblestones, twist an ankle. I need my ankles in good form to explore this afternoon.
The sharpest incline between the school and home leads me to a plateau, where I may catch my breath before a statue of Hernando de Soto, one of the sons of this village. I've learned that De Soto asked for his remains to be buried beside his mother's in the church up the street by my piso, San Miguel, but angry natives disappeared his body before the request could be carried out. This statue honors him instead—seven-feet-tall at least, concrete—with rough features. It's no David, but to an extranjero like me it makes an impression. The base of the carving lists De Soto's birthdate as 1500, which alone tests my notions of history, almost laughs at my concept of national identity. A hundred years before Plymouth, this guy went out walking and stumbled on the rushing foam of the Mississippi.
But that's not the story the locals talk about most. Before Vasco Nuñez left to conquer Central America, he lived here and had a girlfriend named Yarcy. Well, Vasco promised Yarcy he'd return, and they'd live together—and you know what happened to that plan. So Yarcy never recovered, and she would talk about the long-lost Vasco Nuñez all the time to everyone, drove them all crazy, until finally someone opened a restaurant in town to commemorate these goings-on. It's called Boca Yarcy: mouth of Yarcy. I had dinner there last night, and over bocadillos heard at least three versions of the story.
*
After bathing and eating I re-tie my boots and leave the piso, quiet as I can, to avoid a run-in with mi casera, Louisa. Behind me the door latches shut and I look down where I'm headed, to the campo. This is the best part of day, leaving the village walls for the second time, retracing Michener's hike up here from the bus station, feeling the eyes of the old women in black, the leathery men, silver-toothed, arthritic. The diet built around jamón iberico and tortilla de patatas leads beyond hardening of the arteries and joints to an overall appearance of inflammation. I can see that here, especially, growing old is hard to do.
The glaring white houses Michener noted are as bright today as they were more than a half-century ago when he came, and the housewives I see mopping the stone outside their doors are likely the granddaughters of the women he observed at the same task. I'm not sure their daughters will continue on this path—21st century changes are coming fast; steel factories close in neighboring towns and unemployment rises past 30%; these villages bleed young people.
But for now the white walled city lies sleeping, silent as time, and walking through it at a good clip, boots scuffing against the cobblestones as I begin my descent, clip-top, clip-top, I see the bright blue sky and feel as if I've escaped from under pressure of fossilized rock.
Soon I'll reach the road out of town, and when I cross it I can turn and look up at Jerez or down past the farms, the animals tied up every few yards (a simple rope around the neck looped through a cement wedge lodged in the earth), farther, to the reservoir, where in a few minutes I'll sit and read and breathe the only humidity Extremadura can offer: man-made, stagnant.
On the way there I pass rolling fields divided by no more than a few shabby cork trees or a wire fence. Each plot has its own animals, not grazing so much as enduring the dry conditions, stiff brown grass for seven months of heat followed by four of cold.
The first two farms on each side of the road have horses and cows. One large horse bucks up as I pass, fighting his rope. The ears of the fatter cows have been tagged in slips of pink cardboard marking them for slaughter. Soon I'll reach sheep, pigs and finally the smallest square of land with a scruffy brown donkey no bigger than a pony, and his enemy, a barking dog.
The first time I walked down here the donkey neighed at me, nodded, bared a mouth full of great teeth, and leaned his mane and neck up against the fence for me to pet. Since then he runs to the fence when he sees me, stepping up on the low stone wall separating his owner's land from the road. He presses himself into the fence. I run my hands along his body, scratch behind his ears and talk to him (not too loudly, since the farmer's just on the other side of the yard). I try to feed him with grass I pull from the ground, but it's dry and probably bitter—still, he seems to appreciate the effort, nodding his head, trotting along the fence beside me as I continue toward the reservoir. Sometimes the dog makes noise, tries to get between the donkey and me. Once the dog jumped up on the stone wall and barked at me to leave. His barking grew hysterical, maddening, and when he wouldn't give it up the donkey turned to me as if to say, "Hold on a minute, I can handle this," and then bit the dog's back, lifted him into the air, swung around and tossed him out of the way. As the dog slunk off, the donkey resumed his petting position at the fence.
In my piso at night I consider the donkey and his indifferent owner—I wonder what value the animal might have with his small build—what cart could he pull? I'd like to ride him away from here. I think I should taper off my visits, so he doesn't get too used to me and miss me when I go.
*
At the end of the school year I packed up and moved to Madrid—another capital city, more subways and street food and high rents. But this time city life felt slower; my year in Jerez had changed my brain somehow, made it possible to walk down Gran Via in Madrid—or through Times Square at home—without succumbing to the endless rush, to the quicksand of distractions that had eaten away my early twenties. It was another five years before I found mindfulness meditation, but the immense stillness of the village had worked its way into me, clean and suspended like the reservoir I used to pass on my daily walks. Jerez de Los Caballeros. That arid land birthed Hernando de Soto, Balboa, Hernán Cortés, and Francisco Pizarro, all of whom wandered away and crossed seas to declare ownership over continents and waters unknown to their Queen's men. If you've never been to the west of Spain, this may seem odd—why so many from this region? Michener knew; his photographs and snippets of prose from the days he spent here can tell you exactly how it happened. The sun there kills, the hills are jagged, spilling limestone ash, and it never rains. You have to build structures to retrieve buried water—
but when you stand at the castle wall and look down, move your gaze right, slowly, the earth rises to meet you, and the flatlands beckon to the sea.