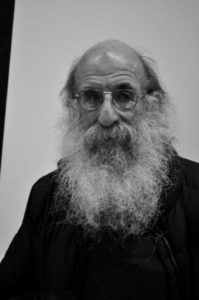 Why look backwards? There was a time when the events of the 1960s were thought to be some of the greatest conflicts we faced as a nation: The Free Speech Movement, Civil Rights, Women's Rights, the Vietnam War (the most unpopular war up until that time), the draft and subsequent dodgers. There were so many changes in the world—we started the decade with JFKs motorcade through Dallas and ended it up on the moon. But things just keep moving faster and that era almost seems quaint in comparison to the turmoil today. Even though we have moved from the printing press to the information age, the hope is that journalistic integrity still endures, that blogs can be as relevant as the literary presses once were and that turmoil and conflict can inspire the art and beauty that arose out of the sixties. This is not just a nostalgic read, but an important reminder that great art and literature and beauty is what is sustainable about humankind. In these times of turmoil, sometimes it's important to look back, as Malcolm has done, and see how literature and the arts grew out of a time of chaos. If you are interested in working on the upcoming project about Bay Area publishing, please note the contact information at the end of the article.—Ed.
Reprinted with permission of the Book Club of California.
For almost fifty years, I've witnessed a number of remarkable and culturally significant changes in Bay Area publishing—changes that have not only reshaped the way books are written, produced, promoted, and distributed, but more importantly the way ideas are expressed, information is conveyed, and the public imagination is nourished.
Indeed, I did more than witness these changes: I actively partook in them, especially after 1974 when I created an independent press, Heyday Books, by writing, typesetting, designing, promoting, and distributing a book called The East Bay Out: An Unauthorized Guide to Hiking, Camping, Swimming, and Fishing in the East Bay Regional Parks. More poetic than practical, the book was a song of praise for the beauty of the land and the abundance of life it supported. More, it was an expression of gratitude for an unexpected gift of freedom that allowed me to explore, to experience, and to enjoy a Wanderjahr in my own backyard with such joy and abandon.
When I published East Bay Out, I knew nothing about typesetting, design, printing, or the business of promoting and distributing books. I had no money and a family to support. In later years, when Heyday had grown into a highly respected cultural force, publishing 25 new books a year and supporting them with up to six concurrent museum shows and more than 200 events annually, people would praise me for my "courage and originality" in creating a publishing enterprise with so little knowledge, skill, financial security, or material resources. But in the mid-1970s, establishing a publishing enterprise was hardly original. If I wanted to do something that none of my contemporaries dared do, I might have opened a stationery store, a dry cleaners, a miniature golf course, or better yet in those pony-tailed hirsute times, a barbershop. That would have left them speechless! But a publisher? It seemed that half the people in Berkeley were creating publishing houses. We didn't just thrive; we swarmed. Scores of small presses were founded during a period of unprecedented creative fertility, each of these presses uniquely reflecting the values, character, and vision of its founder. The newborn presses then brought in writers, editors, designers, typesetters, printers, wholesalers, distributors, publicists, reviewers, event coordinators, etc. Add a few coffee shops and a bar or two, and you have all the ingredients needed for a rich literary culture.
Some of the new presses drew inspiration from the traditional book arts, then long established in the Bay Area. As commercial printers rushed to embrace offset technology, one could acquire fine letterpress equipment and cabinets of metal type cheaply, sometimes for little more than their value as scrap metal. David Lance Goines established Saint Hieronymus Press in 1968, [Charles Entrekin and others started Berkeley Poets Workshop & Press in 1969], Wesley Tanner launched Arif Press in 1970, Betsy Davids set up Rebis Press in 1971, joined by Jim Petrillo in 1972, Bob and Eileen Callahan's Turtle Island Press dates back to 1970, and Frances Butler and Alastair Johnson's Poltroon Press began in 1975. Other traditional book arts flourished, with Don Farnsworth making paper, Georgianna Greenwood promoting calligraphy, and a number of bookbinders, type designers, and other artists rounding out a vigorous creative community. Today there seems to be a wide separation between those practicing book arts and those doing trade books for wider circulation, but in the 1970s these two camps mingled easily. Ostensibly commercial trade publishers as well as smaller presses, even when using phototypesetting equipment and printing on offset presses, were heavily influenced by the typesetting, design, and production standards of the traditional book arts.
But while these traditional book arts played an important role in 1970s publishing in Berkeley and influenced the way books looked, much of the intellectual and literary content of the books, and the kind of people who got into publishing them, seemed new. Fred Cody, founder of Cody's Books, once speculated that the Free Speech Movement of the '60s and the Vietnam protests that followed had forced radicals and intellectuals to master the newly emerging typesetting and quick-printing technologies in order to get out the various manifestos, position papers, posters, and other such ephemera in an age when print was the dominant carrier of ideas and information. And an interest in ideas and a zeal for social change encouraged these people to move from ephemera to more substantial publications (i.e., books).
Be that as it may, Berkeley in the late '60s and throughout the '70s provided all the necessary conditions for a flourishing literary scene. Rent was relatively low and zoning lax, which allowed upstart publishers to run publishing enterprises out of their homes. There was a diversity of independent bookstores to support locally produced books, a major university that supplied readers as well as the basic fuel of all publishing enterprises—English majors eager to work in an industry noted for low wages and few material benefits. Berkeley also had a diverse population hungry to explore rapidly evolving concepts of race, ethnicity, and gender, and a mind-expanding offering of plays, concerts, art shows, films, and other forms of cultural wealth.
But, more than anything, the spirit of the times encouraged fresh ways of thinking and living. There must have been people in Berkeley who had humdrum nine-to-five jobs and spent their evenings glued to the television screen, but these were not the people I knew. Daily life was a constant adventure, every aspect of it up for reinvention. Berkeley then, as I wrote elsewhere, "was a world of experimental social and economic institutions: worker co-ops, consumer coops, food 'conspiracies,' and communes. There were women's groups; encounter groups that encouraged spontaneity, emotion, and honesty; the nation's first recycling program; organic gardening and a back-to-the-earth movement; and a widespread recognition that the earth could not possibly sustain an ever-increasing population or an ever-expanding economy. Barricades were erected on streets to keep out automobiles; parents and teachers banded together to peel asphalt from the schoolyards to make space for trees and ponds; creeks were day-lighted; backpacking, camping, bird-watching, and nature walks overtook football and golf as leisure activities. Authority—all authority—was distrusted. People sent their kids to alternative schools, babies were born at home with midwives, Buddhism and yoga replaced traditional American religion; and governments, corporations, often one's own parents—all those in power—were categorically known as 'the Man' and held in deep suspicion. We were living in the 'People's Republic of Berkeley,' which seemed to have seceded from the rest of America to become its own nation."
Added to this heady stew of passionately felt ideas were technological innovations in typesetting equipment. Especially significant were the IBM Selectric, the IBM Executive, and (for its time) the incomparable, wondrous IBM Composer— all glorified typewriters that in this pre-computer era gave anyone with the ability to type the power to produce an almost professional looking page of text. These and other factors provided the seedbed for publishing efforts of stunning originality, courage, and national significance.
What follows are sketches of six Berkeley presses that were created during this era. The selection of these six was casual—these are publishers that for one reason or another popped into my mind, and much of what is presented here is from personal memory. Dozens of equally important, visionary, or interesting presses have been omitted, as were the major institutions that arose in Berkeley during this period and helped support this thriving community—places like the West Coast Print Center, BookPeople, Publishers Group West, Small Press Distribution, and others. But I hope this brief sampling will give some idea of the vitality and diversity of Berkeley publishing in this era, and will invite others who were there to join me in a larger project to record the recent history of book publishing throughout the whole Bay Area.
Ishmael Reed once said: "No one says a novel has to be one thing. It can be anything it wants to be, a vaudeville show, the six o'clock news, the mumblings of wild men saddled by demons." This expansive sense of what a novel can be suggests something of Reed's wild inclusiveness. There's no one way to write a novel, there's no one way to be a human.
His own writings include more than thirty books—novels, poems, plays, essays, and other nonfiction—written between 1967 (The Free Lance Pallbearers) and 2015 (The Complete Muhammed Ali). His books have been published by major houses (Random House, Doubleday, Crown, Atheneum, Basic Books, St. Martins, etc.), and have been widely translated. His skill and originality as a writer have been recognized by several awards, including a MacArthur. He's been a finalist for a Pulitzer Prize, and two books were nominated for the National Book Award. Among his better-known works are Mumbo Jumbo and The Last Days of Louisiana Red. For some twenty-five years he taught in the English Department at U.C. Berkeley. If high status and the show of acceptance by the ruling cultural class were all Ish wanted, they were his for the taking. And had he done nothing else, his writings would have secured a place of prominence for him in the literature of our era.
But while his writings over the decades have been prolific, varied, and well received, their significance pales in comparison to his work as a cultural advocate. With Al Young as co-editor, Glenn Myles as art director, and others, he produced five issues of a literary journal entitled Yard Bird Reader between 1972 and 1976. Searching well beyond the canon, among those he published were Chester Himes, Spain Rodriguez, Clarence Major, Ntozake Shange, John A. Williams, Frank Chin, Chiuna Achebe, Ralph Ellison, Yusef Komunyakaa, and Anne Waldman. In 1978, Grove Press put out an anthology from these issues, Yard Bird Lives. In 1979 he published a collection of poems, Calafia, under the imprint Y'Bird Books. With a preface by Reed, and separate introductions by his long-time friends and collaborators Bob Callahan, Victor Hernandez Cruz, Simon Ortiz, Shawn Hsu Wong, Wakako Yamauchi, and Al Young, this book sits before me as I am writing this, and I feel now as I felt when I first opened it nearly forty years ago. There is a freshness to this material, a jaw-dropping brilliance to these bold new voices urgent to be heard. A joy in fresh voices is one of Ish's great contributions. In an early interview, he recalled talking to a white author who couldn't sit down at a typewriter without "a bunch of dead people looking over her shoulder, like Henry James and Chekhov." "I think that blacks got over that and are trying to set up their own stuff," he commented. Similarly, I recall his scorn when a New York critic used the phrase "a Chinese Portnoy" in a review of a play by Frank Chin. Unwilling to cede authority to the New York critics or be judged by the standards of the established literary world, Reed insisted on a true multi-cultural autonomy, free of the coercive criteria of the dominant culture.
The diversity that Ish has been promoting throughout his life is not just tolerance of the otherness of different cultures, nor is it something safe and ornamental—like different jams on the same white bread. Cultural diversity lies deep in California's cultural soil. From its very origins as a state, Californians were described by its founding legislature as a "heterogeneous mass of human beings of every language and hue." Much of modern California history can be seen as an effort to bring order out of such social chaos, to bring uniformity of language and custom to the state, to create a unis out of this unmanageable pluribus. The constant strategy of many "good citizens" and self-defined "progressives" is to douse true cultural distinctions in order to form a "more perfect union." But more perfect for whom, Ish seems to be asking as he gleefully pours gasoline on the flames that the social controllers seek to douse. Secure in his own strength, Ish thrives on discord. His opinions and public utterances are not smoothed and polished by any internal "public relations expert" concerned with image. His pronouncements seem raw, barbed, and explosive. A man of smoldering anger, he rides his rage like a horse to do battle with anyone who seeks to oppress what is most alive in the human spirit.
Ish's rage is monumental. I've shared the stage with him at readings where it seemed nothing could stop him from offending the entire audience, whatever their beliefs, gender, or race. Yet, as I struggle to express what I feel has made Ish so central to the literary world of our time, as I keep coming back to how heroically he has expanded the entire literary enterprise to include voices never before heard—or, if heard, quickly marginalized and dismissed—I find myself wrestling with a mystery. While his anger and his impolitic lashing out are certainly present, powerful, and visible, they are accompanied by a sweetness of soul that even the belligerence can't hide, an unquestioning loyalty to family and friends, an openness to the uniqueness and greatness of others, and a generosity of spirit that has resulted in opened doors for so many others. I'm puzzled at how so much anger and so much love can co-exist in the same person, but whether I understand it or not, this is what I've observed again and again. Henry Louis Gates Jr. described him as a man with "no true predecessor or counterpart." Indeed, of all the people I've known in my life, I've never met anyone like him, nor have I met anyone who has so selflessly furthered the careers of so many others. Among the many gifts that Ish has given the literary world is his creation in 1976 of the Before Columbus Foundation and his instituting the American Book Awards in 1978. For many years the award ceremony was the highlight of the annual American Booksellers Association meetings—the major tradeshow for the publishing and bookselling industry. Whereas the rest of the conference was devoted to sales, movie and translation rights, distribution agreements, and other commercial aspects of bookselling and publishing, the American Book Award ceremony was a celebration of words, ideas, and creative courage. The presence of Ishmael Reed and his colleagues, a beautifully ragged, high-spirited group, looking more like a marauding band of pirates than proper business men and women, functioned as a refuge for the human spirit.
Before moving to California, Reed had had an active career in New York where, among other things, he co-founded The East Village Other, a pioneering alternative weekly. Yet once, when we were discussing Berkeley, he said that he could never have done what he had ended up doing with his life if he had remained back East. I feel the same way. This comment got me wondering about why the Bay Area has been so nurturing to new enterprise and what needs to be done to keep it that way. This question is the genesis of the piece you are now reading, one of so many Bay Area literary endeavors that can be traced back to Ishmael Reed. In my former role as publisher of Heyday, I was keenly aware of how much of our success in publishing works by California Indian, African American, Latino, and East Asian writers derived from the work that Reed had done to identify such writers, find support for them in the bookselling and book reviewing communities, and build an audience for them among readers. A towering figure, still angry and still active, many of us who are engaged in what the historian Hubert Howe Bancroft characterized as the "literary industries" are living in a house that Ish built…
Nolo Press, now a highly successful publisher of self-help legal books and software, was founded in 1971 by Jake Warner and Ed Sherman. Sherman, a family law attorney, had written How to Do Your Own Divorce in California. At the time the book was published, divorce was attempting to shake off a history of punitive moralistic coercion that involved expensive legal fees, trips to Nevada, and an assumption of enmity even in cases where the divorce was uncontested and done by mutual consent without child custody issues or complex financial issues. How to Do Your Own Divorce in California, written in a jargon-free language, clarified and simplified the process. By empowering people to do their own divorce, it was liberating and revolutionary, done in the spirit of the Whole Earth Catalog, which saw itself providing tools for self-sufficiency. How to Keep Your Volkswagen Alive: A Step-by-Step Repair Manual for the Compleat Idiot, Small Time Operator: How to Start Your Own Business, Keep Your Books, Pay Your Taxes, and Stay Out of Trouble, and other such books gave, in the phrasing of the era, "all power to the people." When other publishers, afraid of being prosecuted for practicing law without a license, refused to touch How to Do Your Own Divorce in California, Jake Warner, who had recently graduated from Boalt Law School, and Ed Sherman set up Nolo Press. Vicious attacks by bar associations and individual lawyers resulted in giving the book the publicity it needed, and copies flew out the door.
Eventually, Ed Sherman went off on his own, and Jake took over the management of Nolo with his wife, Toni. Down-to-earth, socially responsible, active in environmental and social justice issues, they exuded competence, charm, grace, athleticism, and movie-star good looks in a world of the scruffy, ill-kempt, badly dressed publishing community. Like almost all other Berkeley publishers, they operated the press out of their house for the first several years. Jake was especially adept at deinstitutionalized thinking. He had his books printed and bound somewhere in Missouri at a plant that specialized in high school yearbooks. During the spring the presses were running around the clock, but on the long off-season they were desperate for work and offered low prices. Nolo's workbook format had the same dimension as a typical high school yearbook, so it fit the printer's presses and bindery perfectly, and Jake was able to get books printed at the lowest costs imaginable. He then discovered that refrigerated trucks were hauling broccoli, Brussels sprouts, and artichokes from the Monterey Bay Area to Missouri and returning to California empty, and he was able to negotiate the lowest imaginable freight charges. One of my signature memories of these early years was my showing up at Jake's house on Sacramento Street to give him a hand unloading a truck. Part of the process of stacking boxes in a small storage area was to wipe off the Brussels sprout leaves and florets of broccoli. This kind of careful, original, out-of-the-box manner of doing things was a pervasive feature of Nolo, leading to an early adoption of software, an expansion of their book list and topics covered, what seems to be a thriving bookstore for Nolo products, and a history of ancillary services and outreach. The effect that Nolo has had on the practice of law throughout the country has been profound. Jake and Toni are happily retired. Nolo has expanded to cover the entire country. Nolo's offices hum with activity. And there's not a sprig of broccoli in sight.
Shameless Hussy press, founded by Alta in 1969, was the first feminist press in the United States. Alta operated it out of her garage where she had a small AB Dick 360 offset printing press. Boisterously omnisexual, she is especially remembered for publishing lesbian literature at a time when such writings were just beginning to emerge from the depths of cultural closets. Threatened by violence, she moved out of Oakland to San Lorenzo, a working-class suburb, where she got a post office box and an unlisted phone number. Another early feminist press in Oakland, Diana Press, ignored similar threats. In 1977, after having published only three books, its offices were vandalized, its inventory of books destroyed, and it was forced out of business.
Despite the physical danger, Alta was courageously honest about both her lesbian and her enthusiastically diverse heterosexual liaisons. Susan Griffin, who was one of several Shameless Hussy authors who went on to national prominence, quoted Alta as saying "The minute you tell a lie, people have power over you." In addition to publishing Griffin's first book, Dear Sky, a 32-page saddle-stitched volume of poetry, Shameless Hussy also published the first book by the black lesbian feminist writer Pat Parker; Mary Mackey's first novel, Immersio; Ntozaki Shange's For Colored Girls Who Have Considered Suicide, When Rainbows Were Enuf; and the first book by Mitsuye Yamada. For the first five years, Alta physically printed all Shameless Hussy books, folding, collating, and stapling each one, then taking them to bookstores and women's studies conferences by public transportation—she didn't drive. Later, as print runs grew, she had books printed and bound by commercial printers and distributed by a growing network of alternative distributors like BookPeople in Berkeley and Inland in Connecticut.
When Alta launched Shameless Hussy in the late '60s, publishing feminist and lesbian literature seemed like an underground, almost illegal pursuit. These were not the kinds of books that were reviewed in the Chronicle, that were sold in bookstores like B. Dalton, or that you'd leave on the dining room table when your parents were visiting. Buying a book from her directly felt a bit like a dope deal. But as the years passed, feminism became more mainstream, sexually provocative material became commonplace, and other publishers moved into the channels that Alta had cleared—publishers with more marketable designs for books, more business acumen, more advanced ways of promoting and distributing books. After a period of inactivity, Alta published Deluged with Dudes in 1989, the last book to bear the Shameless Hussy imprint. In all, Shameless Hussy published about fifty books in a twenty-year span from 1969 to 1989, launching the careers of several now prominent writers and opening a once taboo field to other publishers. Alta now lives in Oakland, and I look forward to celebrating the fiftieth anniversary of Shameless Hussy in 2019.
Ten Speed was founded by Phil Wood in 1971 with the publication of Anybody's Bike Book: A Comprehensive Manual of Bike Repairs by Tom Cuthbertson. Derailleur-equipped bicycles were just then making their way from Europe into the US. Overnight the bicycle evolved from a child's plaything to a major activity of millions of Baby Boomers who were just reaching the physical peak of adulthood. Bicycle shops spread like the flu, materializing, it seemed, in every vacant storefront all across the nation. Anybody's Bike Book arrived at exactly the right time, and in the end sold more than a million copies. It might seem that Phil Wood had gotten lucky, but whereas other publishers in Berkeley struggled to sustain their enterprises on books that might sell 3,000 to 5,000 copies, Phil had a knack of acquiring books that would sell in astonishing numbers. In his second year of publishing he came out with What Color Is Your Parachute? A Practical Manual for Job Hunters and Career Changers, which to date has sold over 10 million copies. Other books that have sold in huge numbers include The Moosewood Cookbook, White Trash Cooking, Why Cats Paint, and How to Shit in the Woods. A big man who came to work wearing a Hawaiian shirt, Phil seemed free of idealism, good taste, or any impulse to save the environment, bring peace to the world, or use his publishing skills to help create a more equitable and just society. He seemed quite out-of-step with most other Berkeley publishers. There was something in his aggression (he always seemed to be suing someone over something), his apparent indifference to what others may have thought about him, and his uncanny ability to find odd, sometimes garish manuscripts and shape them into best-selling titles that made him seem like a buccaneer or marauder. All the same, there were few people that had as much fun publishing as Phil did, played the game with more daring or imagination, or were better lunch companions. Over the years, Phil bought up other publishers—Celestial Arts and Crossing Press—and launched Tricycle Books, a successful imprint for children's books. In 2009, the year Phil sold Ten Speed to Random House, it was publishing 150 new books a year and managing a backlist of more than 1,000 titles. Phil died in 2010, and Ten Speed, now a division of Crown Publishing Group, which is itself a division of Random House, has resettled in Emeryville where it maintains a vigorous production schedule of new books.
Adebaran Review was launched by John Oliver Simon in 1967 as a poetry magazine. Its irregular schedule and lack of consistent format—some issues had works by several poets, while others were in effect chapbooks given over to a single author or a single work—make it more appropriate to categorize its 28 issues as books rather than as a magazine. The first issue included poems by Larry Eigner, Sister Mary Norbert, Charles Potts, and others. The second issue, drawing on a weekly reading series at Shakespeare & Co., a bookstore at Dwight and Telegraph, included the first published work by Alta (at that time married to John Oliver Simon), as well as poems by Al Young, Peter Koch, David Meltzer, Judson Crews, and more. Simon produced these first two issues by typing directly onto paper masters and running them off on an AB Dick offset press in an upstairs room of Holmes Bookstore in Oakland under the guidance of Graham Mackintosh and the sponsorship of Robert Hawley, publisher of Oyez Press and at the time manager of Holmes' California Room. The AB Dick later found its way to Alta's garage and was put to good use in the creation of Shameless Hussy Press. Other issues of Aldebaran Review include one (number 5) given over entirely to a chapbook of poems by Alta, two other chapbooks featuring Simon's own writing, three issues focusing on writings by prisoners, two issues showcasing the poetry of students at King Junior High, and one issue (number 20), entitled "Toddler," offering the poetry of John and Alta's daughter, Kia Simon, written between the ages of three and six. In 1977 he put out what may have been his best known book, City of Buds and Flowers: A Poets' Eye View of Berkeley, which had poems by Gary Snyder, Alan Ginsberg, Josephine Miles, Jack Spicer, Julia Vinograd, and others. In 1978, Simon became statewide coordinator for California Poets in the Schools, "an all-consuming missionary incarnation which gave me the nudge I needed to drop my publisher's hat entirely and formally lay down the imprint which had not really been a magazine of poetry for quite some time."
In summing up the history of Aldebaran Review, it's obvious that high status was not among its goals. Although I don't remember John Oliver Simon as someone entirely without vanity or ego, he did not seem to be part of the omnipresent but unstated competition among publishers for a high position in the regional hierarchy in which one's place in the publishing world was measured by some combination of sales, reviews, acquisition of original work by famous authors, range and depth of distribution, honors and awards of various sorts, and as the decade progressed, grants from the National Endowment for the Arts and other public and private funders. The primary vehicle for distribution of Aldebaran Review books were John Oliver Simon's feet, as he went from one coffee shop to the next selling books. But I suspect that status and hierarchy were scarcely on his radar, and I wonder whether a large part of his personal and professional life might be defined as an attempt to escape the odious blindfold of privilege into which he was born. In the years since Aldebaran Review ceased publication, John Oliver Simon has gone on to be an inspirational teacher of poetry to kids in schools, an advocate for bilingual education, a promoter of Latino poets, a champion and trusted friend of the unheard and unheralded. I don't want to detract from the accumulated work of Aldebaran Review, but I can't help but feel that while John Oliver Simon created the press, the press in many ways created John Oliver Simon. And what an admiral creation that is!
North Point press was co-founded by William Turnbull, a civil engineer and real estate developer, and Jack Shoemaker, who had previously owned and managed a literary bookstore (Sand Dollar) in Albany. North Point Press published more than 290 books from 1980 until it closed its doors in 1991. Turnbull described the press as "filling the growing gap between the small, fine press and the large commercial publisher, borrowing from the former a commitment to excellence in design and format, and from the latter a distribution system to reach the wider audience our books deserve." Books, often designed by David Bullen, stood out for their high quality: the attention to typography and design, the marvelously thick acid-free paper, the sewn binding, and the French flaps on the paperbacks. Their books adapted the aesthetics of the fine arts, letterpress book world to books for trade distribution, making each North Point book a physical delight. With a combination of reprints and original works, fiction and non-fiction, regional and international, it was not so much subject matter that gave the press coherence, but rather a sense of quality and taste. Books that hit the national best-seller lists included West with the Night by Beryl Markham, Son of Morning Star by Evan Connell, and Crow and Weasel by Barry Lopez. Other North Point authors included Wendell Berry, James Salter, Gary Snyder, Guy Davenport, M.F.K. Fisher, Galway Kinnell, William Merwin, Gina Berriault, Donald Hall, Anne Lamott, and many more of the world's best writers. The effect of North Point on the Bay Area literary community was enormous. Bookstores and reviewers were star-struck. Black Oak Books in Berkeley proudly advertised that it carried all North Point titles, as if by doing so it had elevated bookselling from commerce to something closer to a museum. For some Bay Area publishers, Heyday included, the appearance of North Point was analogous to what happens when a top-rated pool shark walks into a neighborhood pool room; everybody's game seems to improve. Similarly, North Point showed everyone what a well-done book looked like, and within a year of their founding, there was a measurable improvement in the standards of editing and book design throughout the entire region.
Despite the prominence of many of its writers, the high editorial and design standards, the praise of the reviewers, and the support of the bookselling community, sales rarely covered expenses, and few books, even those that were critically acclaimed, sold more than 2,000 or 3,000 copies. What about the best sellers? At the demise of North Point, Jack Shoemaker made an observation that has stuck with me for more than twenty-five years. Whenever they had a bestseller, money would pour in, and flush with cash they expanded the list, added staff, upped print runs, and increased salaries. The next year, however, sales would drop while the expenses were locked in and stayed high. "It wasn't the bad years that did us in," Jack concluded. "It was the good years." As sad and true a lesson in publishing as I ever heard.
These, then, are a few fragments from a work that will eventually cover the last fifty years of writing, publishing, and bookselling in the San Francisco Bay Area. I'm aware of how inadequately these fragments cover even so limited a topic as publishing in the Berkeley area in the '70s. I hope that you've enjoyed reading them—I hope you've found them interesting, instructive, thought-provoking, and even inspiring. What you have before you is a beginning, the first daub of paint on the blank canvas, a few quick warm-up sketches, something to give the project a physical presence, and enough I hope to interest others in what I'm doing. It's a big project, and I'd love some help. If you want to get involved, if you have memories, photos, or archives—or if you want to research or interview—please get in touch with me at margolinmalcolm@gmail.com. It was a joy to have lived in this era, and it would be a joy to revisit it in memory. Please join me.