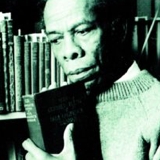 This poem comes from sudden realization that that generation of men had a great deal to overcome. Many succumbed to alcohol, depression, hard work, and poor opportunity and there seems to have been no respite. It has taken me a good many decades to come to an understanding of their lives.
Theophilus Eugene "Bull" Connor was the Police Commissioner of Public Safety for the city of Birmingham, Alabama, for two decades. He terrorized white and black alike.
When I went to the movies, the Movietone News of the Day showed some Jews being liberated from the German concentration camps. Years afterwards, a German apologized for the horror.
All of these elements went into the making of the poem.
It should be recorded that my father accomplished
one amazing and significant act that made life better.
He rescued me and his wife from the hasty discipline
of Birmingham's "Bull" Connor on the pretext of
having to go see his dying sister.
She on the other hand had written:
you can make $5.00 a day instead of $5.00 a week.
Wages are plentiful, more than the peace of mind
we all tried to appropriate after W. W. II ended
when a myriad of black soldiers freed those thin bodies
of incarcerated Jews from extermination camps
before turning their faces to the back of the buses,
and those long discriminating lines of just waiting.
My father took his sister's letter on faith and boarded
a train that evening for Ohio. He left mourning and
sorrow buried in those foreign graves where he thought
the body had a warmth, and all its worries, dissipated.
Little wonder he thought that so many black men
chose foreign soil instead of the misery of
segregated homes. My father and mother chose
to escape up South, as one of my poetic black colleagues
wrote. Here was the silence of another kind of invasion:
summer mosquitoes taking blood without so much as
a courteous warrant, or a how-do-you-do.