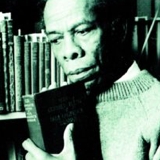 In almost two decades of the twenty-first century, there seems to be an assault upon young black men not unlike the times after the Civil War and the days of Southern segregation. This poem comes out of hearing young black youths give voice to the thought that they did not expect to survive adolescence nor reach adulthood. A catalogue of names and lives seems to give credence to this thought. And so, troubled as I was, I wrote this poem.
for: young black men everywhere
Each county, though city wide, possesses its own random quantity of bullets. Death leaves them with a group of selected mourners in each town. Such scenes cannot be easily eradicated; nor do they end the way we want them to. They increase like new infections carried by water, mosquitoes and the coughs from other human beings. Many a compassionate heart breaks at the sight of death. There are, among the blackmen, on the corner, those who intone jazz, those who laugh at the mistakes others make, those who tease about the carelessness of lives that cannot be repaired, the sad wives left behind to sort through the misery, the rubble of life spent all too rapidly, and the mournful days that they must calculate as intolerable, even as they tried once to stem the tide of death among the young blackmen who think that they are wise beyond their grandparents' thinking. And the wise among them know that there are fewer and fewer to choose from.